Earlier this week the government announced that we can start thinking about travelling again – yay! Below are the COVID-19 tests available to VitalityHealth insurance members and some other frequently asked questions.
The first test you can get access to is the Antigen Test aka PCR Test. This tests for the presence of Covid-19, from a nasal or throat swab, or saliva. It can identify if you have the virus, even if you're feeling well and not displaying any symptoms. These are the tests that the NHS is providing to anyone over the age of 5 with symptoms.
You will need to prove a negative result with this test to board a flight leaving the UK and coming back into the UK.
Antigen tests
• Tests can show you have (or have had) the virus, when you don't (false positive). They can also show you to not have the virus, when you do (false negative)
• If your antigen test was 'positive', it does not mean that you will need hospital care. Treatment will vary depending on how unwell you are. In most cases, people with the virus can self-isolate and recover from their symptoms at home
• If you have a negative antigen test, you may need to take another test. This is important if there is a high probability of infection. For example, if you live with someone who has had the virus or if you are a healthcare worker.
What' included in the Antigen/PCR home test?
The kit includes everything you need and step-by-step instructions. The swabs provided can be used to take nasal and throat swabs by scraping inside the nose and at the back of the throat. The swabs should be sealed in the containers provided and posted back to the laboratory for testing.
You can have these tests sent to your home or you can go into specific surgeries if you need a rapid PCR test. These tests cost from £100.00 but can go up to £145.00 for a specific service. All of them come with a pre-flight letter which essentially confirms and validates your certificate to leave the country.
You can also get access to the Antibody tests, which essentially prove whether you have had COVID-19 in the past. This test is to see if you may have had the virus. A blood sample will show if you have had an immune response. But, these tests are likely to not be positive until several weeks after the infection.

Antibody tests 
• A 'positive' antibody test does not mean that you have full or partial immunity from having had the virus. It also doesn't guarantee that you are unable to catch the virus again 
Below is the pricing for Vitality Members: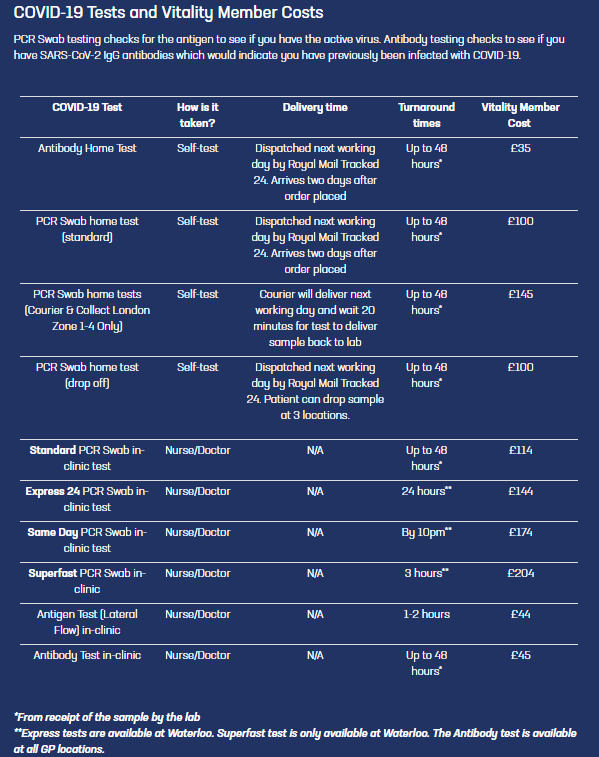 Can I get a Fit to Fly certificate?
If you have a PCR test, Doctors Clinic Group can provide you with a Fit to Fly Certificate as part of the test cost. You can select this option on the order If you have a PCR test, Doctors Clinic Group can provide you with a Fit to Fly Certificate as part of the test cost. You can select this option on the order form for home tests or request a certificate when taking a test at their dedicated pop-up clinic.
Do Vitality cover COVID-19 vaccinations?
No. The vaccine is not currently available privately. The vaccine is being distributed through the public health system, with priority for the vaccine determined by the Government based on advice from the Joint Committee on Vaccination and Immunisation (JCVI).


Please note, it's your responsibility to check whether you are permitted to travel, any specific flight and border requirements, and that you have allowed adequate time to receive test results in time for travel dates.