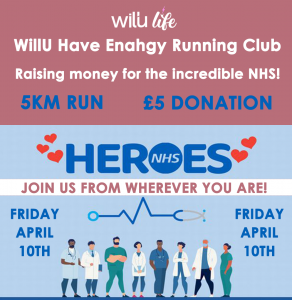 Friday April 10th we are asking our runners to donate £5 to support the incredible NHS!
Every Mon & Fri we run 5km wherever in the world we are. We have built a support network and community around these runs.
Everyone is welcome! It isn't about times, it's just about getting it done!
Join our Running Club: https://www.strava.com/clubs/willu-have-enahgy-running-club
Remember to share your sweaty selfies on Insta #WillUHaveEnahgy @WillU_Life @Enahgy
DONATE HERE: https://www.justgiving.com/fundraising/willu-have-enahgy-running-club
Thank you for joining us and donating!