The average price of a health insurance premium £1,011.63 per year, £84.30 per month.
We're hesitant to give an average price for health insurance as premium costs do vary, so please do read on to understand the various factors that contribute to the difference in price.  
The above average was calculated using quotes given in January 2020 using an example client;  36-year old, male, non-smoker January 2020.
Private healthcare provides access and covers the costs of medical facilities and treatments, ensuring you have no delay in seeking medical treatment. It also plays an equally important role in helping fund the cost of early diagnosis and treatment of acute conditions. PMI offers; Fast access to private medical treatment, flexible cover to suit your needs, access to a wide range of hospitals, access to the latest drugs and treatment, choice of consultant, comfort and privacy at a time when you need it most.
What does Private Health Insurance cost?
Like most types of insurance the prices of premiums vary person to person, but the main indicators for these changes in cost are the same;
Your age: the cost of cover may increase with age, as you may be more likely to make a claim the older you are. Insurers charge more the older you are with premiums increasing markedly for those over 50 as the chances of making a claim increases.
Your postcode: it really is a postcode lottery! Private healthcare will cost more in areas of the UK than it will in others. Prices are directly influenced by the cost of treatment in that particular location. Standard of facilities, accommodation and equipment, along with specialists' fees all contribute to this.
Your lifestyle choices: declaring you are a smoker will affect your premium.
In addition to the above; your claim history (the number of past claims you've made on a policy) and the general cost of healthcare services across the country may impact your premiums. The costs involved in healthcare can be vast, with even routine procedures boasting hefty price tags. For example, a knee replacement can average £12,530! Insurers factor these things in when calculating premiums.
We conducted quotes across the 4 main providers using a '36 year old, male, non-smoker living in SE9' as an example. Below are the prices we got. You can see there is a difference of £38.19 between the lowest and highest premiums.
| | | | |
| --- | --- | --- | --- |
| Vitality – £74.04  | BUPA – £84.76  | Freedom Health – £70.12  | AXA PPP – £108.29  |
All of these premiums include the following: 
• £100 excess per person, per plan year

• Fully comp on in & day patient

• Full cover on outpatient & diagnostic tests 

• Full cover on mental health cover 

• Alternative Therapies cover 

• NHS cash benefit 

• Home nursing 

• Private ambulance 

• Physiotherapy 
How They Calculate Your Premium
In addition to the aforementioned, your premium cost will also be based on the below.
The majority of policies with have a 'basic' or 'core' level of cover which can then be added to depending on the level of cover you require. This entry level cover can be very comprehensive, depending on which provider you go with. The table below shows the core cover offered with Vitality, it includes mental health support and out-patient surgical procedures as standard. All VitalityHealth Personal Healthcare plans  also include Advanced Cancer Cover. This provides comprehensive cover for the treatment of the cancer, including full cover for biological and targeted therapies, as well as discounts on targeted cancer screenings and risk assessments for breast, bowel and cervical cancer. Core Cover gives you access to private GP video consultations within 48 hours and a Full Cover Promise.
The 3-step Vitality Programme
| | |
| --- | --- |
| START WITH CORE COVER | All our plans start with Core Cover • Integrated Primary Care • Out-patient surgical procedures • Mental Health support • In-patient and day-patient treatment • Advanced Cancer Cover • Additional benefits |
| | |
| --- | --- |
| CHOOSE COVER OPTIONS | To create a plan that suits your needs and budget, you can choose from a range of options • Out-patient Cover • Mental Health Cover • Therapies Cover • Dental Cover • Worldwide Travel Cover |
TAILOR YOUR PLAN

You can tailor your plan further, by choosing a hospital option, a level of excess and choosing which type of underwriting suits your needs 

• Hospital option • Excess • Underwriting
Add ons that affect your insurance premium
Hospital lists
The effect different hospitals has on the cost of your PMI is down to how much they charge to treat you (equipment, facilities etc). Insurers group hospitals together in tiers based on those rates. In general, hospitals in larger cities are more expensive, this will impact your premium. Equally living near hospitals that have lower charges also impacts your premium but by lowering it – the postcode lottery in action!
Taking Vitality again as an example, they offer;
Consultant Select:
Quality-Assured Private Healthcare Treatment Our Consultant Select treatment pathway uses an intelligent consultant ranking tool that means you'll see a consultant who has a track record of excellent treatment outcomes and positive feedback from patients. Good treatment outcomes lead to lower long-term claims costs, which means insurers can charge a lower premium without compromising on quality
Alternatively, you can choose the consultant that treats you, and the hospital you wish to be treated in, as long as they are recognised by the insurer. You will still have access to the Consultant Panel should you wish to choose this treatment option.
Local, Countrywide and London Care lists of leading private hospitals give you control over where you are treated. 
Local hospital list includes:
All of the hospitals in the UK's largest hospital groups, including BMI Healthcare, Nuffield Health, Spire Healthcare, and Ramsay Health Care • A number of select local providers, including Aspen Healthcare and the New Victoria Hospital • No Central London Hospitals
Countrywide hospital includes:
• All of the hospitals in the UK's largest hospital groups, including BMI Healthcare, Nuffield Health, Spire Healthcare, and Ramsay Health Care • A number of select local providers, including Aspen Healthcare and the New Victoria Hospital • In Central London – The London Clinic, The Hospital of St John & St Elizabeth, King Edwards VII's Sister Agnes Hospital and the Royal Marsden Hospital • Most other private hospitals outside of London • All NHS Private Patient Units outside of London • Some Central London NHS Private Patient Units 
London Care hospital list includes:
• All private hospitals in the UK • All NHS hospitals with private facilities in the UK Treatment at a hospital not eligible on your plan If you choose a hospital list, and have treatment at a hospital not eligible on your plan, you will need to pay 40% of the costs. If you want to avoid paying this, you'll need to use a hospital that is eligible on your plan. But if you need treatment that the hospitals eligible on your plan can't give you, you can contact us. We will find a hospital and a consultant to give you the treatment you need. 
Dental Care
is another add on offered by most insurers. As with health insurance cover there are different levels of dental cover which is reflected in the prices. If you're looking to keep costs down, it may be worth exploring dental insurance as a separate policy and not an add on to your health policy.
It's worth noting that seeing an NHS dentist is not free, like seeing an NHS doctor. The benefit is of course bypassing NHS waiting lists. Most dentists perform a mixture of NHS and private treatment and prices are set by the dentists, therefore they vary across the country.
How does excess impact the cost of private health insurance? 
Excess in health insurance is a contribution you agree to make towards any claims. The larger the excess you agree to, the lower your premiums will be. You can choose to pay the excess on each claim you make, or only on the first claim you make in each plan year. Most insurers are flexible with excess and the choice is really down to you. If you have access to lump sums you may prefer to pay less per month and pay out on a claim, or you may opt for a higher monthly payment that results in less or nothing to pay when claiming. 
You can choose to pay a fixed cash amount – an excess – towards your treatment to tailor the cost of your premium. You can set your excess at zero, £100, £250, £500 or £1,000. Again, this will affect your overall premium.
How does underwriting impact the cost of private health insurance?
Underwriting is used to work out whether the insurer can cover you, what they can cover you for and how much your cover will cost. This just means looking at your age, your medical history and, if applicable, whether you've made any claims before. Any conditions they can't cover are called personal medical exclusions. A personal medical exclusion is usually a pre-existing condition or symptom, or a previous illness. If they apply a personal medical exclusion to your cover, they will also exclude any related conditions. A related condition is any symptom, disease, illness or injury which reasonable medical opinion considers to be associated with another symptom, disease, illness or injury. 
There are two main kinds of underwriting that you can choose from;
Full Medical Underwriting
– if you're happy to be asked about your medical history, you can choose Full Medical Underwriting. This means that you may be able to get cover for a pre-existing medical condition that would normally be excluded using other methods, giving you the peace of mind that you will be able to undergo treatment for that condition. Even if your pre-existing medical condition is excluded from cover, you'll know from the outset what you can and can't claim for. 
MORATORIUM Underwriting
–  if you don't want to disclose your full medical history, you can choose Moratorium Underwriting. Because they won't look at your medical history, they tell you whether you're covered at the time you make a claim. When you apply to join, you don't need to fill in a health history questionnaire. Conditions you've had in the five years prior to joining will be excluded until you've spent two years free of treatment, medication or advice for that condition. This means it's easy to apply and you can be covered quicker than if you choose other types of underwriting. 
Vitality also offer;
Continued Personal Medical Exclusions Underwriting (CPME/ Switch)
– If you have already got a private health insurance plan with someone else, you could choose Switch and Save to ensure that you retain the closest level of health insurance cover with Vitality. 
What are the costs for cancer cover?
With stats suggesting that 1 in 2 people will face some form of cancer, it has become something that most insurers include as standard on their 'core' level policies. Insurers all have different things they include within their standard cancer care so it's worth looking closely at what each provider offers and weighing up what you feel is most important to you.  Vitality plans all include Advanced Cancer Cover, which pays all eligible costs associated with cancer once diagnosed. This means if you're diagnosed with cancer, they will cover your in-patient and out-patient costs in full. They also offer up to £200 for mastectomy bras and up to £5,000 per condition for external protheses.
How to reduce your private health insurance costs? 
Premiums may increase over time due to age and medical inflation. At each policy renewal, you'll be older and therefore more likely to make a claim which is why there is usually an increase. Any claims you make on your policy may also have an impact on your premiums.
One of the best ways to reduce costs is to monitor your health. Apps that manage and record your health and fitness can go some way towards helping to reduce your premiums.  The addition of reward partners incentivise being active and encourage good health. Vitality use a status level scheme to help motivate members, the more points you earn, the higher your status becomes. Everyone starts at Bronze and then you can work your way up through Silver, Gold and finally Platinum. The higher the status, the better the discounts and the lower the increase in premium annually.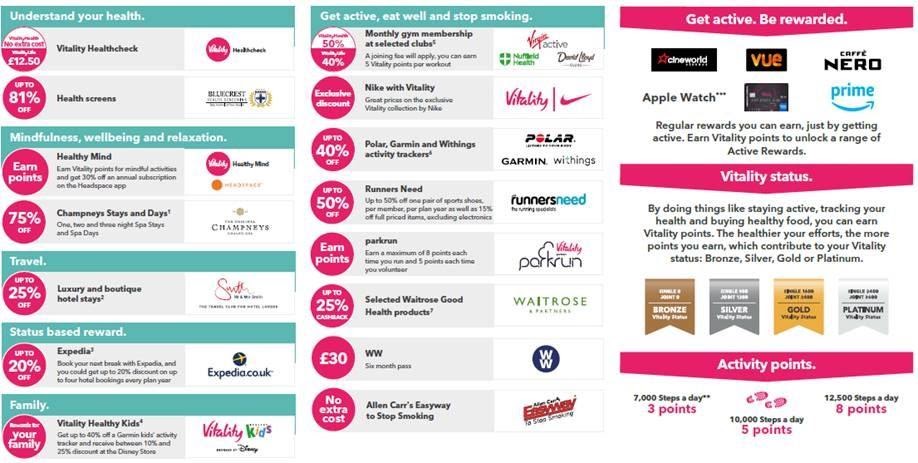 It's a modern approach to insurance that aims to reduce claims by offering members the opportunity to earn rewards for being active. The healthier you are, the less likely you are to claim which works for them and in turn, you're getting great discounts which when factored into your premium makes it a savvy move. Top quality protection with bells on!