WillU Wellness x Cadbury Pilates
We are delighted to be partnering with
Cadbury Pilates

to offer our clients a fantastic selection of wellness activities.

These include pilates, yoga, fitness and other holistic practices. Direct to you at home either live or on-demand.

Kate Cadbury is a client of the WillU Financial Group and we instantly felt aligned with her ethos and vision. We were looking for a platform to host our wellness classes and felt it was the perfect fit. Kate and her team offer a superb range of classes that cater to all levels of fitness and abilities. The online timetable and on demand library allows our clients plenty of options to join classes anytime, anywhere.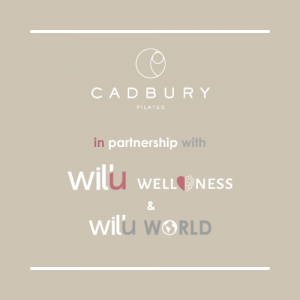 The partnership also welcomes Tillie from WillU Wellness to join Kate's fantastic team, teaching online pop-up yoga classes and wellness events.
We are thrilled to offer this to not only our private clients, but also to our corporate clients via WillU Wellness – the department of our business dedicated to the nurturing of mental and physical health within the workplace. Staff members will be able to access the live classes and on-demand catalogue.
Corporate Wellness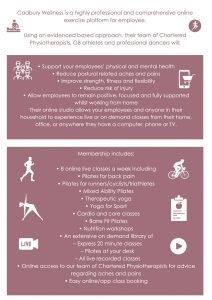 Kate Cadbury, Chartered Physiotherapist and founder of Cadbury Pilates says:
"I am acutely aware of the need to support employees in the  workplace to help improve physical and mental wellbeing and prioritising that during these challenging times has never been more crucial. Our evidenced-based approach to the online platform will guarantee a positive outcome for your team"
"What a buzz, we had people sign in from home and the office for your session – such a great way to start the day!" Sara Openshaw, Head of Heritage, LV
"The sessions have helped so much with my back whilst working from home and are also great to help with my running and cycling training" Lee Dineen, Head of Global Platforms, M and G
About Us
WillU Wellness is the corporate wellness arm of the WillU Financial Group dedicated to the nurturing of mental and physical health within the workplace and beyond.
The WillU Financial Group provide services including: Life and Health Insurance, Estate Planning, Wills, Advisory Stock Broking, International Payments, Insurance and Client and Employee Wellbeing support.
For Cadbury Pilates Clients
The WillU Financial Group would like to extend access to their WillU World platform to Cadbury Pilates members. WillU World is where you can access discounts from hundreds of well-known brands, access wellness classes and mental health courses, keep up to date with everything happening in the WillU Financial Group and find external support from partners including the charity CALM.
Cadbury Pilates clients can opt-in here for exclusive, free access to WillU World here(typeform).